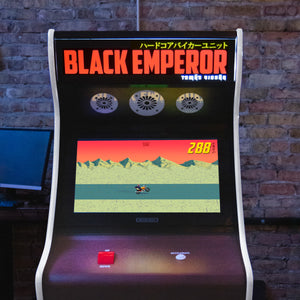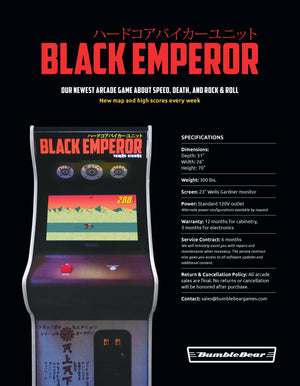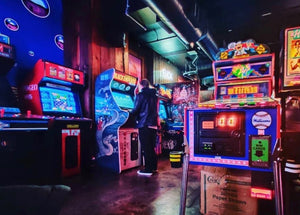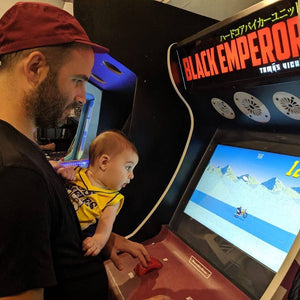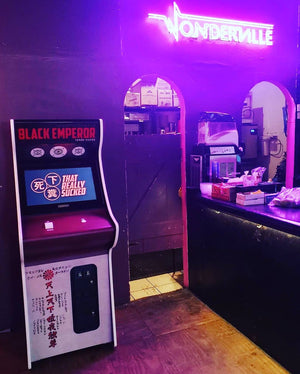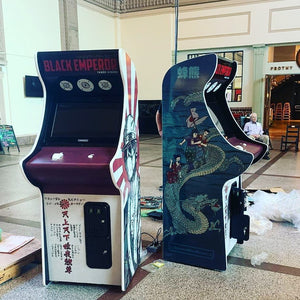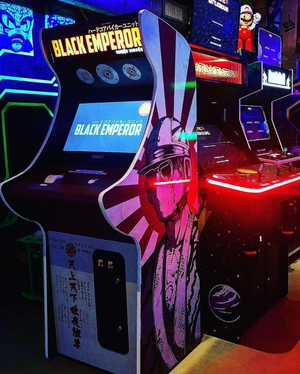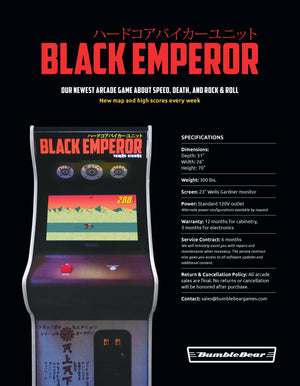 Black Emperor
Speed, death, and rock & roll.
Black Emperor combines our love for classic action arcade games with Japanese psychedelic rock and the Bosozoku motorcycle culture of the '70s. From the creators of Killer Queen!
* Please allow 8-12 weeks lead time.
Shipping is 

not included

and will be calculated after purchase.
Features

New track every week 

Procedurally generated levels featuring 3 unique desert landscapes

Feel the wind in your hair with our game synced high-speed throttle fan

Kumabachi SuperWheel controller

Original psychedelic rock soundtrack featuring 3 brutalizing tracks

Suzo-Happ coin door and mechs

Small footprint: 30.5" x 25.5"

Online updates for new features

Great performer!
Pairs great with pinball

Black Emperor is the perfect game for operators with pinball routes because of its small footprint and the fact that the high-score driven gameplay is so similar to pinball. Additionally, the aesthetic of the art and music fits right in with pins. The game has been thoroughly tested on location at bars and festivals and is always a crowd-pleaser that makes players say "just one more ride!"
Bosozoku
Black Emperor is inspired by Bōsōzoku culture, a Japanese youth motorcycle subculture in the 1970s. The influence of the bōsōzoku aesthetic resonates throughout the entire game—the gameplay, visuals, and sound are all intentionally brash, over-the-top, lightning-fast, and exuberant.

Kumabachi SuperWheel controller

Black Emperor features a custom interface we call the Kumabachi SuperWheel controller. Simply roll the wheel up or down to shift your position on the screen. The wheel is responsive and tactile—it feels great, creates exciting gameplay, and attracts players due to both its novelty and its simplicity.

Origin Story

Game designer Tomas Vicuña designed the original prototype of Black Emperor as his master's thesis project at the NYU Game Center. Nik and Josh had been eyeing it throughout the year, but it particularly caught their attention at the end-of-year student show where Tomas had it running on a projector and being controlled by a touch screen. A number of Killer Queen players were also there, and we all kept returning through the night, immediately addicted to Black Emperor's simple and elegant gameplay. 
We knew immediately that Black Emperor had all the hallmarks of a great arcade game: quick sessions, an attractive aesthetic, and a blaring in-your-face rock & roll soundtrack. We also knew this type of game would help flesh out our catalog by complementing the large, expensive, and multiplayer Killer Queen with a cheaper, smaller offering that can work in both a midwestern arcade just as well as a Brooklyn dive bar. So we worked together to bring this new arcade game to life.
The Monolith
Every year we hold a World Championship for all our games at our modern arcade game festival BumbleBash. The winner gets to permanently emblazon their name on The Monolith trophy.
Specifications

DIMENSIONS
  DEPTH: 30.51"
  WIDTH: 25.5"
  HEIGHT: 69.67"
WEIGHT: about 300 lbs
SCREENS: 23" Wells Gardner monitor
POWER: Requires a standard 120V outlet. Alternate power configurations available by request
WARRANTY: 12 months for cabinetry, 3 months for electronics
SERVICE CONTRACT: 6 months. We will remotely assist you with repairs and maintenance when necessary. The service contract also gives you access to all software updates and additional content.
RETURN & CANCELLATION POLICY: All arcade sales are final. No returns or cancellation will be honored after purchase.
LEAD TIME
Final processing and packaging may take 8-12 weeks.