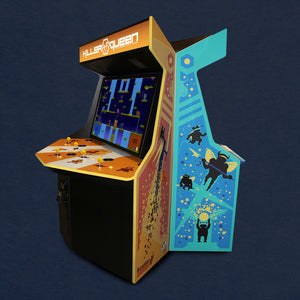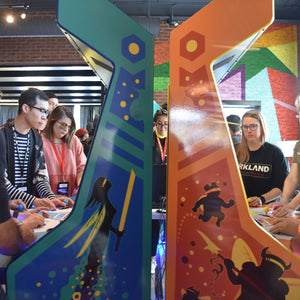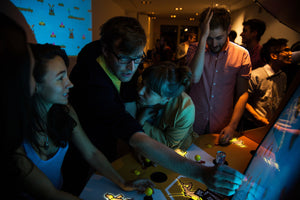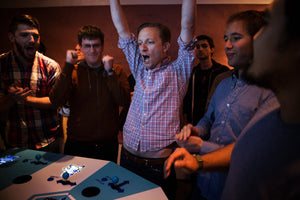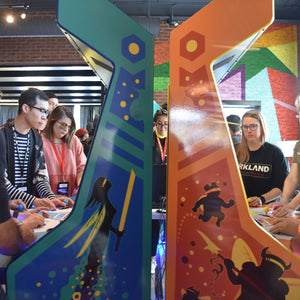 Killer Queen
The world's only 10-player arcade game

Killer Queen is designed from the ground up to be the centerpiece of the arcade. The game can be learned in as little as 60 seconds, but is still being mastered by world-class competitors. Killer Queen is precision engineered to make your arcade more social, fun, and profitable.
GREAT EARNER
Under the right conditions, Killer Queen can earn over $1000/week and introduces new audiences to your other games. At bars and restaurants it also increases food & beverage sales. Click here to view collections data
LEAGUE NIGHTS
Weekly league nights boost patronage on otherwise slow nights. They also attract new customers to your venue who return week after week. Click here to download our Killer Queen league starter guide
TEAM BUILDER
Killer Queen forges lifelong friendships and encourages teamwork. Bring your crew or coworkers out to the arcade, or bring the arcade back to your rec room.
For more info on why Killer Queen is right for you, check out the Killer Queen Game Site
Specifications
DIMENSIONS (each side)
Depth: 38" (31" with control panel lifted) 
Width: 67"
Height: 76"
The two sides can be placed side-to-side or back-to-back. Killer Queen fits through all ADA approved doorways.
WEIGHT: 450 lbs. each side
SCREENS: two 49" LED monitors, plus two additional HDMI outputs for projection and streaming
POWER: Requires two standard 120V outlets. Alternate power configurations available by request
WARRANTY: 12 months for cabinetry, 3 months for electronics
LEAD TIME: 8-12 weeks
SHIPPING: Ships freight LTL, with an optional crate, and is professionally packed. Shipping and packaging is not included and will be calculated after checkout. Email us to arrange special shipping options. 
SUPPORT & SOFTWARE CONTRACT: 6 months
We will remotely assist you with repairs and maintenance when necessary. The software contract also gives you access to all software updates and new content.
You can add an additional year of support at at a $100 discount at the time of purchase for a total of 18 months of coverage. 
RETURN & CANCELLATION POLICY: All arcade sales are final. No returns or cancellation will be honored after purchase.
FAQ
Q: How much does it cost to play Killer Queen?
A: You can set it to whatever you want, including a freeplay option. We do recommend setting it at $1-2 per game. The cost per game is for up to 10 players to play together.

Q: Can you customize my cabinet?
A: Sorry, no. We build the games in small runs so they need to be identical. You're free to customize it once you have it though.
Q: Do you sell kits so I can build my own cabinet?
A: No, we just sell the whole machine.
Q: Do you offer financing?
A: Yes! Ask us about financing and our 0% APR options.
Q: Do you offer Distributor pricing?
A: We sure do! Please send us an email at Sales@BumbleBearGames.com and we'll work with you on pricing and logistics as shipping and packaging are not included in the price.
If you have additional questions or special payment requests please email Sales@KillerQueenArcade.com.
Spare Parts
Add-on Options